Bookmark this site | Email: mail@natfibers.com
+ 91 484 2365236
+ 91 98473 12510
+ 91 98951 79019
Fax : 91 484 2371960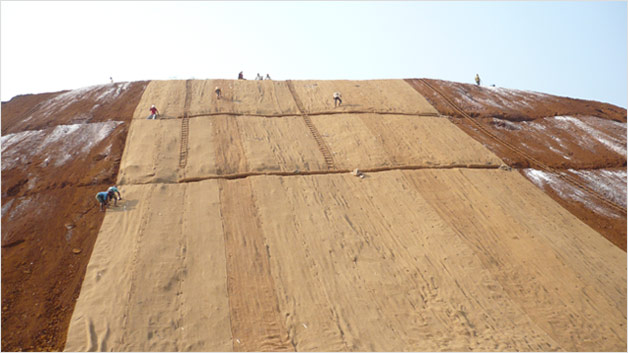 Soil erosion and degradation of nature's resources are creating a great threat to the environment around us. Concerted efforts are now on to rejuvenate and restore degraded lands with the help of geotextiles. Coir Geotextiles provides a cost-effective engineered solution for many common civil construction challenges. Coir Geotextiles are 100% natural and bio-degradable and are capable of being customized to specific requirements like vegetation.
Geotextile is used in ground and civil engineering applications for improving the soil behaviour, preventing soil erosion and help consolidation of the soil. These permeable fabrics have the ability to separate, filter, reinforce, protect and drain. Geotextiles are available in different forms like meshes, grids, geo beds, antiweed blankets, erosion control blankets, geo-rolls, geo-webs and fascines.
Due to preference for natural products and return to nature movement has opened up new opportunities to natural fibre based geotextiles including coir. Its high durability permits plant and soil establishment, natural invasion and land stabilization.
Our Coir Geotextile products minimize soil erosion and sediment runoff. Technical expertise combined with direct access to copious coir resources enables us to offer perfectly engineered, cost-effective and environmentally safe and coir Geotextileproducts. Natfibers not only makes and supplies this, but also undertake the "laying work". Coir wovens are available in various dimensions -upto 4 meter wide, with length to 50 meters per roll.